The Giasson is only accessible with ski-mountaineering equipment or snowshoes, as the road is closed to traffic at Bonne from December to May.
The quickest way to reach us is the one along Lake Beauregard. The starting point is in Mondange, a few minutes from the main town of Valgrisenche. Follow the road to the Beauregard dam, then descend to the lake. In about 6 km of flat track you will reach the village of Usellieres and the Giasson.
For those who wish to do a more pleasant ski-mountaineering excursion, follow the summer path n°2 of the Alta Via in the direction of Col Fenetre. Once in the Vallone di Epée, go down towards Usellieres.
Where we are
You can find us at the top of Valgrisenche, one of the beautiful side valleys of Aosta Valley, the smallest of the Italian regions, nestled in the Western Alps.
The airports of Geneva, Turin and Milan are only a few hours away, and the Mont Blanc and Grand Saint Bernard tunnels provide direct access from France and Switzerland. The highway also crosses the region, making transportation easy.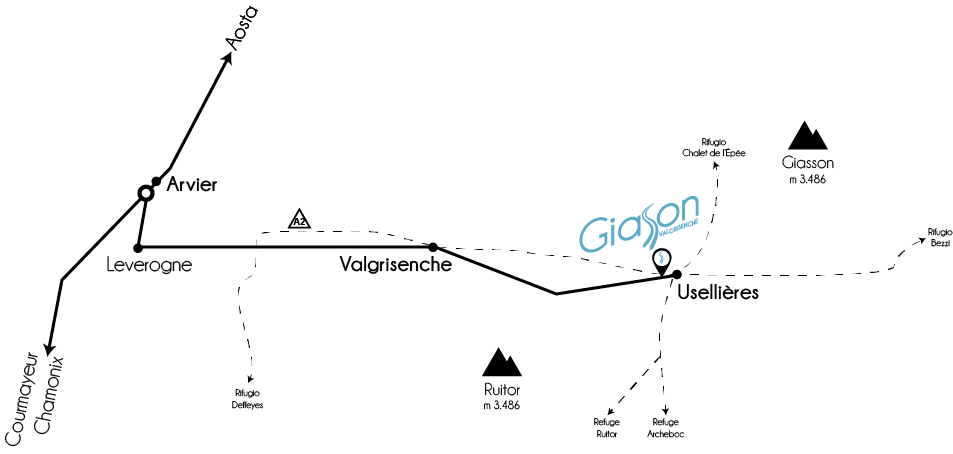 The entrance to the Valgrisenche valley is in the municipality of Arvier (SS26). The regional road climbs for 15 km along the valley to the municipality of Valgrisenche.
In winter the road is closed at Valgrisenche. From there, you can continue on snowshoes or skis along the country road that runs along Lake Beauregard, on the orographic right of the valley, to the left of the dam.